Good news for all the Pixel phone lovers! The brand new Google Pixel 6 and Google Pixel 6 Pro have launched, and surprisingly both smartphones have amazing list prices. But the fact is if you are looking for carriers and at online retailers, then you might see dissimilar price tags. Here you will get why the Google Pixel 6 price is all over the place and what you will be paying for the new Pixel phones.
Google now set a baseline price for each of its smartphones which is like starting from 128 GB of storage level at $599 for the Pixel 6, and $899 for the Pixel 6 pro. Remarkably, the latter's price doesn't vary a lot on the market but you will definitely get different price tags.
Overall, Google has recently launched different versions of the Pixel 6 which differ between the model sold in the online store of the company and those delivered by carriers that work with their own networks. Now, what's different you will get? 5G support and for more bands which means more prices.
For example, the Pixel 6 version sold by Google store only supports sub 6 5G for $599, and the Pixel 6 model T-Mobile sells also comes in at that $599 with sub-6 5G only.
US mega-carriers, Verizon and AT&T, both confirmed that the Pixel 6 models sell a link to their respective sub-6 and mmWave networks. These versions are higher in price as a result the Verizon Pixel 6 starts at $699, on the other hand, AT&T's Pixel 6 comes with a price tag of $739.
These price tags are all comes under the instalment agreements and can be hard to parse, but the prices can be covered, as each provider (even Google) offers diverse trade-in deals. For example, Verizon is offering up to $700 off either Pixel model if the buyer trades in their current phone. There are some limitations but it's still some process to save money on a brand-new phone.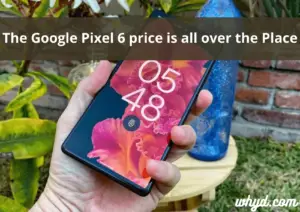 So wait, which Google Pixel 6 do I have?
When it comes to choosing which Google Pixel, yes every version of the Pixel 6 has almost the same specifications, cameras and features but the only difference you will find is 5G capability and cost.
Usually, you may get confused during purchase in-between Pixel 6 and Pixel 6 Pro. Most confusing part of users were multiple US versions that obscure the Pixel 6 would be mmWave only the models sold by AT&T and Verzon.
Though both of these confirmed to us that their pixel versions work with mmWave and sub-6 5G, so overall it may create confusion on the launch day or errors in the support post.
Irrespective, the misperception over the versions and the price difference are worth sightseeing to recognise which version will be better for you and which one you want to buy from different providers.
Also Read: Android 12 is out now, and it's coming to Pixel phones first