The 3rd of October is National Boyfriend Day. It's a day for you to express your love and affection for your boyfriend. On National Boyfriend Day, everybody with a boyfriend is reminded to appreciate that special person and appreciate how he improves their lives.
Read ahead to find out when is National Boyfriend Day, how it started and how you can celebrate Happy National Boyfriend Day 2022!
When is National Boyfriend Day 2022?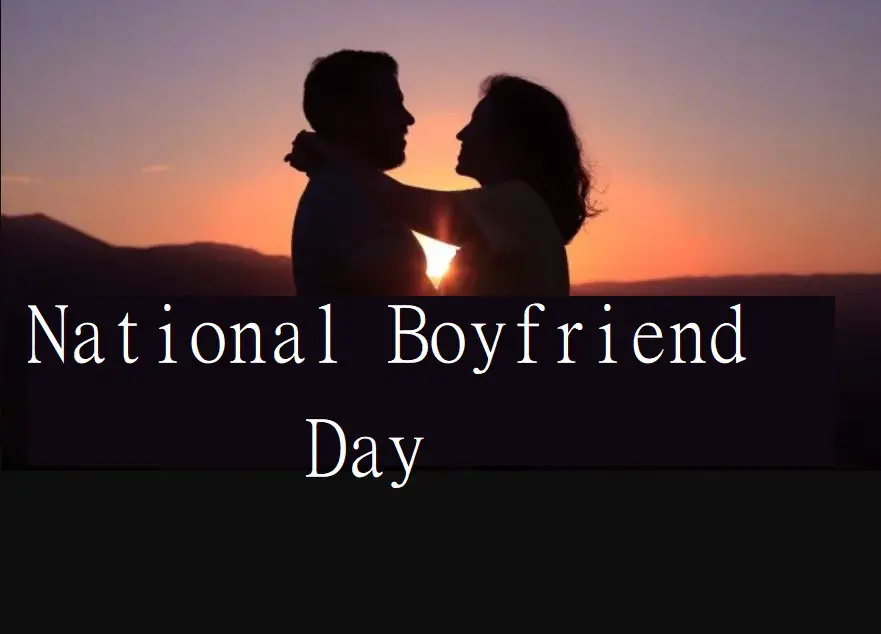 When is National Boyfriend Day 2022 – National Boyfriend Day is marked every year on October 3rd. The day will be observed this year on Monday, October 3rd 2022. 
History of National Boyfriend Day
Happy National Boyfriend Day ( National BF Day )is said to have started on October 3, 2012, when a group of Twitter users decided to send appreciation postings to their lovers using the tag #NationalBoyfriendDay.
The Twitter users appear to have seized on Mean Girls Day, which also happens on October 3 thanks to a famous scene from the 2004 film in which Cady Heron (Lindsay Lohan) is questioned what day it is by her future boyfriend. Yes, it was October 3rd.
Since 2012, National Boyfriend Day(National BF Day) has been celebrated alongside Valentine's Day (February 14) and Sweetest Day (October 20) as the day to do and say lovely things for your boyfriends.
Back in October 2014, people noticed some Twitter users again trending and mentioning this hashtag. However, by March 2016, the day had gained momentum, with over 46,000 tweets!
Although there is no single source that is officially attributed with starting this crucial day, someone smart must have seen that lovers didn't have their own recognised day and came up with this brilliant concept. After all, why not? Girlfriends have a day of their own!
Every August 1st, National Girlfriends Day is observed. This day was created to promote Kathleen Laing and Elizabeth Butterfield's novel "Girlfriends Getaway," which was released in 2002. For those unfamiliar with Girlfriends Day, it's a special day for hanging out with your girlfriends or, for the guys, doing things extremely special for your favourite girl- rejoice with gifts, a memorable getaway, or simply spending quality time together.
Why Celebrate National Boyfriend Day?
Your special one makes you feel valued and appreciated. They assist you in growing as a person. You adore him without a question, but what if you set aside a day especially for him, to show him how wonderful he has been and how precious he is to you? The person who stands by you through all of your foibles deserves to be recognised.
No matter how long you've been together, you'll need to put any effort into your partnership in order for it to work, which is why National Boyfriend Day is observed.
How to Make National Boyfriend Day 2022 Memorable?
The term "boyfriend" is frequently linked with young individuals, but this is not always the case. Whenever we consider it, the word indicates culture rather than age. Every pair has the right to enjoy their affection in their own special manner on this special occasion.
You won't find special National Boyfriend Day 2022 candy or decorations throughout the world because it's an unofficial celebration, but don't rule out someone taking advantage of it. It's most commonly seen on social networking sites as a hashtag, #NationalBoyfriendDay, with posts and photos of one's sweetheart, or in online articles linking into the occasion or leveraging it as a brand peg.
This special person has done a lot of things for you be it being there for you in your tough times or pampering you! So why not take this opportunity to thank him for everything he has done for you?
You can make this day special for him in a variety of ways. We've listed a handful of these celebration ideas below. Take a peek around.
A feast including all of his favourite meals
See nothing finer than meals home-cooked, no matter how delicious the meals in eateries are. Envision your partner returning home to find all of his favourite meals on the board.
Although if creating so many meals is exhausting for you, it's only for a day, and the joy on his face will make you forget about your weariness.
His Favourite Event Tickets
Is your guy a music fan? Take him to see his favourite band perform live. You can even surprise him with tickets to his favourite football or basketball game if he is a sports fan.
A Candle-Light Dinner Spectacular
Now, a candle-lit supper may sound cliched, but it delivers. Hardly anything beats a lovely discussion with the one you love, a delicious meal, and dim illumination in an ambience lit solely by gorgeous candles for a romantic evening.
Amaze him by putting together a scavenger expedition for him
Write down your sweet phrases and treasure quest riddles; these words will discover your feelings for him. Depending on your preferences and present, you can control the intensity of the quest. 
If you want to play a quick scavenger hunt, you can hide the clues around your apartment or house; if you want to play a bigger scavenger hunt, you should look for ideal concealing areas in public places you frequent. 
One of the greatest ways of spending some quality time is to watch a film. Choose a film that is one of his favourites or one about that you both have lovely memories. So, grab the popcorn and plan a romantic movie evening with your sweetheart.
A Trip to His Favourite Spot
Find out what your boyfriend loves when it comes to holidays. You can always go with him, even though if you don't love whatever he likes. He won't necessarily make you do anything, but there's nothing stopping you from attempting anything fresh.
Give Him anything he's been longing for
What can be better to give him the thing he's always wanted? Make a list of everything you believe he'd like to buy. Your present will not only cheer him up, but it would also demonstrate that you are aware of all of his interests. 
Celebrating National Boyfriend Day when you're in a Long-Distance Relationship 
Nobody likes to be separated from their loved ones. But there might be situations due to which you can't be with your special one. Nevertheless, just because you're keeping away doesn't mean you can't demonstrate your love for one another like any other relationship. There are numerous options available to you.
Nothing will be more valuable than paying him a brief visit, no matter how lovely the presents you give or even how many videos calls you to conduct. The finest thing that could happen to you is to see someone you love sitting next to you.
Don't worry if you can't make it to be with him physically. You can give him everything, even though he's in a distant area. Whether it was a favourite pair of jeans or clothes you'd like to see him wearing. Sending him a present is always an option.
These days, video call technology is fantastic. You could meet somebody without having to travel great distances if you do a video call to them.
Hardly anything beats a handmade love letter, no matter how fancy technology is becoming. Compose him a letter describing your feelings towards him and send it to him.
Happy National Boyfriend Day facts:
Here are a few interesting facts related to Boyfriend Day;
In 1909, the term "boyfriend" was coined, figuratively signifying "woman's paramour."

The concept of courting emerged in the 1920s; prior to that, people had some concerns about wooing, which was a social concern. As the concept of courtship faded, dating becomes the first timid step toward relationships.

Black Day is celebrated on April 14 in South Korea for those who did not receive any presents on Valentine's Day or White Day. They treat themselves.

White Day is observed one month after Valentine's Day, on 14th March, and is observed in the opposite direction of 14th February, in which a person receiving gifts on Valentine's Day gives gifts to all those who gave it.

The usual woman takes between less than a month and six months to tell her lover she loves him; in rare circumstances, it can take up or even a year. 

After six months of dating, a couple begins to think about their future together and their marriage.
Happy National Boyfriend Day 2022 ( National BF Day 2022) is observed on October 3rd around the world as a means for girlfriends to demonstrate their gratitude for their boyfriends. The day seems dedicated to all of the male friends and partners who are always around their dear ones. Every partner needs to be loved and treasured all year, and National Boyfriend Day is a perfect way to demonstrate to them how much they matter to you and how important they are in your lives. The purpose of the day is to demonstrate your gratitude for your lover, and you should do your finest to do so. So, don't forget to wish your special one a Happy National Boyfriend Day 2021!
Check More – Upcoming Fest and Events