Kwanzaa is a week-long festival honoring African-American history and culture. Unity, self-determination, communal responsibility, cooperative economy, purpose, creativity, and religion are among the seven principles celebrated in African culture. Kwanzaa was founded in 1966 by Dr. Maulana Karenga, a Black power leader, and Africana studies professor. The festival was inspired by African harvest festivities and celebrated family, culture, and legacy.
According to CNN, Kwanzaa gained popularity in the 1980s and 1990s combined with the Black Power movement, completing the winter festival trinity of Christmas, Hanukkah, and Kwanzaa.
What are Kwanzaa's seven values and principles?
The Nguzo Saba (Seven Principles) is at the heart of the holiday:
"Unity" is what the word Umoja signifies. "To strive for and sustain togetherness in the family, community, nation, and race," according to Karenga's Kwanzaa
"Self-determination" is the meaning of Kujichagulia. "We must define, name, construct, and speak for ourselves."
Ujima is a Japanese word that implies "collaborative effort and accountability": "To work together to establish and preserve our community and to make our brothers' and sisters' issues our problems to address."
Ujamaa is a word that means "cooperative economics" in English. "To create, operate, and profit from our stores, shops, and other companies." This idea, like Ujima, relates to economic development in your community.
"Purpose" is what Nia signifies. "To make the establishment and development of our community our collective vocation to return our people to their traditional glory."
Kuumba is a word that means "creativity:" "To do everything we can, in whatever capacity we can, to leave our community in a better and more advantageous state than we found it."
Imani is a word that signifies "faith." "To have complete faith in our people, our parents, our instructors, and our leaders, as well as the justice and success of our battle."
"It's a celebration that caters to people from all walks of life, regardless of where they fall on the Black cultural spectrum." "At its heart, Kwanzaa is a mash-up of many solstices and harvest traditions that have long been observed across the African continent," says Thérèse Nelson for Eating Well.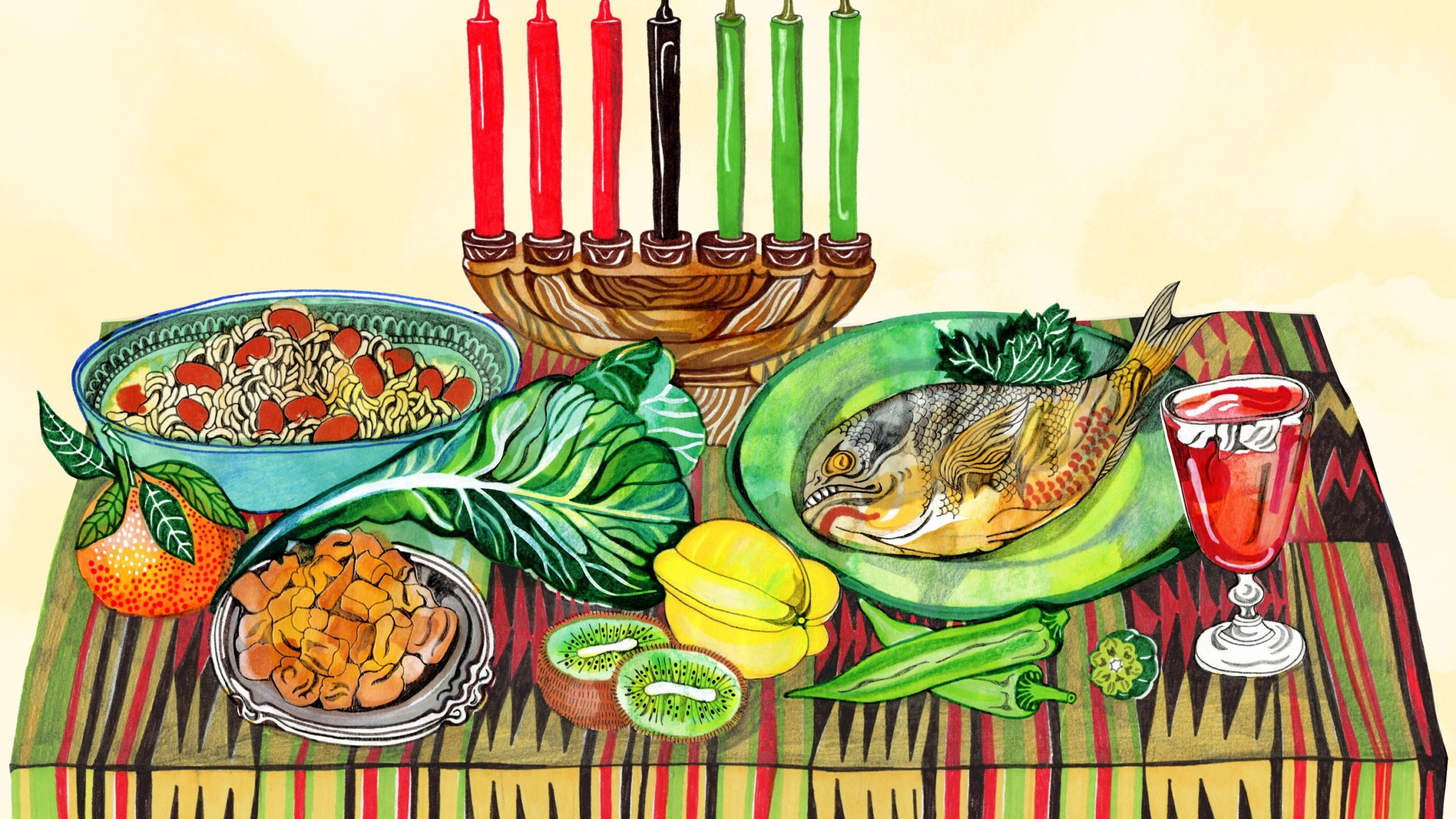 "The Swahili phrase'matunda ya Kwanzaa,' which means 'first fruits,' is the source of the term Kwanzaa. It's a winter harvest festival that allows its participants to review their life and reset for the new year."
What is the Celebration of Kwanzaa?
The seven candles on the kinara candle holder represent the seven principles.
Three red candles are on the left, three green candles are on the right, and one black candle is in the middle of the kinara. First, the black candle is lighted, symbolizing oneness (Umoja). The red and green candles are then alternately lit, starting on the outside of the kinara and working inward, according to TheHolidaySpot. The lighting of one candle marks each day of the celebration.
According to PBS, the holiday's people (black), the noble blood connecting all people of African descent (red), and Africa's fertile country (green) are represented by these candle colors. According to ABC11, they might also express difficulty (red) and the optimism that comes from it (green).
The karamu feast on Kwanzaa's last night (Dec. 31) is a popular way to end the week-long celebration. "On that day, people who are celebrating Kwanzaa get together—either in small groups as families or in larger groups as communities—to recognize the renewal, rededication, and resilience that Kwanzaa represents."
Jessica B. Harris wrote for Eating Well. "I enjoy how the feast provides for the multigenerational transfer of history and culture: how children sit and listen to their elders talk about their lives and the shared and complicated history that links us all."
Kwanzaa Working Groups Formed By the Raleigh Organization:
On Dec. 26, the first day of Kwanzaa, Raleigh's Fruit of Labor World Cultural Center hosted a Kwanzaa celebration. But, according to Angaza Laughing house, co-director of the facility, more is being done each day of Kwanzaa and long into the New Year.
During the Sunday celebration, they created working groups. These organizations are trying to achieve the objectives of Kwanzaa, such as continuing to develop an onsite communal solidarity garden and holding financial health seminars to help people improve their credit and buy houses. Arranging candidate forums to assist in electing responsible candidates utilizing music and culture to educate and motivate workers holding worker rights workshops.
Check Whyd for more news.