A few days ago, rumored that the upcoming iPhone 13 brings huge expectations among Apple phone users. People are very much excited to know about the features and design of the phone. Many leak sources also reveal the upcoming Apple phone, known as iPhone 13's design and specifications. According to rumors, the emergency satellite call feature will be there in this upcoming so-called iPhone 13, and people are expecting a lot from this new handset of Apple.
Limited satellite call coverage
In between all these rumors, according to a special report of 9to5Mac, Bloomberg's Mark Gurman claims that the upcoming emergency satellite calls and message feature On iPhone will not work everywhere! He added this feature would work only on no cellular coverage locations. Many people expected that this feature would work as a backup when there are no cell services in their area.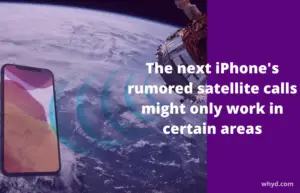 Apple's own satellite will be launch soon!
A report says Apple is continuously working towards launching its own satellite, which will definitely help them provide more data coverage for Apple phone users. However, it's still not sure when Apple is going to succeed in this project. Gurman stated that Apple would come with its satellite soon, which will help people make non-emergency calls any time from anywhere.
According to tech experts, there is nothing to surprise when Apple launches its own satellite, and the call limitations wouldn't be there. Rumors say the upcoming iPhone 13 model can feature a modified Qualcomm X60 modem, especially for satellite service, which might not provide full coverage for emergency calls. Overall you can say iPhone 13 will not be a fully-featured satellite phone.
Gurman also stated in an interview that the iPhone 13 cost and carrier objections might be two reasons for Apple not offering the true satellite phone that evades conventional networks.
Apple's new wristwear maybe launch with a new iPhone.
No doubt, the true satellite concept phone may be the next goal for Apple. No doubt people are waiting for the next event of Apple and expecting new gadgets and the launch of the new iPhone, but several reasons can moderate your hopes. Gurman also says the Apple Series 7 availability could be limit due to display issues. But this new Apple wristwear will definitely launch with the next iPhone. Maybe some of the versions are available for the users, but they will be limited.
If you are waiting to order your case and band combo, it may take time to ship. But it will not be much delayed like the iPhone 12 and other gadgets of Apple last year. Hopefully, Apple will launch its new iPhone 13 soon with some amazing accessories and gadgets. If you are an apple lover and waiting for the new iPhone, let us know about your expectations about the features and share the view on satellite calls with us under the comment section.
Also Read: Amazon to improve conditions for warehouse workers