Pakistan a country going downwards is well known for its huge amount of debt and high inflation rate. The whole world knows that Pakistan's external debt is around US$121.75 billion and it's currently under the FATF grey list but Pakistan's Prime Minister Imran Khan recently gave a surprise statement and trolled heavily on social media.
While addressing the inaugural ceremony of the International Chambers Summit 2022, Imran Khan said that his government is doing very well and under several challenges still Pakistan is the cheapest country and economically better than several countries and mentioned particularly India. He said the economic condition of Pakistan is better than India.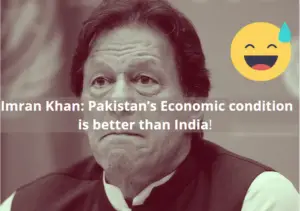 This statement went viral within few times and people from several countries and even the people of Pakistan also trolled their prime minister on his statement. According to facts Pakistan's economy is worst in the current situation than ever before and badly affected by huge debt. The government of Imran Khan can't even pay the electric city bill for their office which was another viral thing the world knows.
This is not the first time Imran Khan is getting trolled by people. He usually gives foolish statements which are completely logicless and baseless that's why trolled heavily by people on social media.
After this statement, India's union minister Rajeev Chandrasekhar hits Pakistan Prime Minister Imran Khan and gave a replay via a tweet.
–Yes becoz aapke paas Sidhu hain, aur hamare pass sirf fastest growing economy, sabze jyaada unicorn aur FDI hai.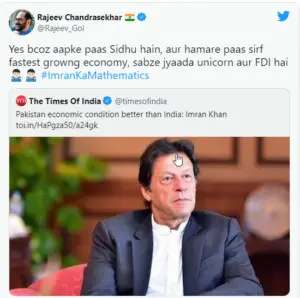 Another funny tweet came from congress leader Abhisek Singhvi who trolled Pakistan Prime Minister Imran Khan heavily by tweeting-
In order to talk up its economic stocks, Imran Khan refers to Pakistan as one of the cheapest countries in the world. Ofcourse you are when-beg from Saudi, auction your land and resources to China and sell donkeys in order to survive."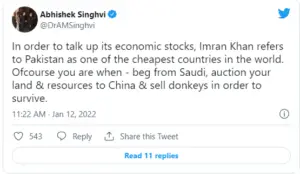 Overall, if you will mark Imran Khan the Prime minister of Pakistan wants to hide his failure and trolled by his own people. The report says he is frequently giving such funny statements and trolled by people worldwide and losing his value in Infront of other world leaders.  Hope you also enjoy his funny statement this time on the economy of India.