Grand Theft Auto (GTA)is a popular game, and recently the Grand Theft Auto 5 is back again into the gaming world. But fans are not that much happy with the trailer of this game. Recently Rockstar, the popular gaming portal, released a trailer for the Grand Theft Auto 5 Expanded and enhanced, along with the release date for the game on PS 5, X box series X|S. The updated version of this game, which was released eight years ago, maybe prepared to launch somewhere in March 2022 for the new consoles. However, fans are quite upset and unsatisfied with GTA 5 and downvoting the official trailer released yesterday.
History of Grand Theft Auto 
No doubt Grand Theft Auto 5 is one of the top-rated games of the decade, and gamers are crazy about this game. This game was originally released in September 2013 on Xbox 360 and PS3. After that, this game again launched for Xbox One and PS4 in 2014 and a PC version in 2015. Since then, Rockstar has sustained to upkeep GTA online, even though Red Dead Redemption 2.  Now the same game will release its third generation with PS 5 and Xbox Series X|S, which will annoy some of the die-hard fans of this series.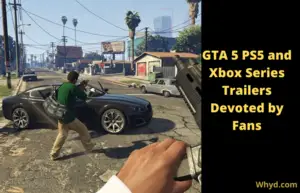 Why fans are downvoting Grand Theft Auto 5?
Now, the trailer of Grand Theft Auto 5 trailer has 18 thousand likes and   43 thousand dislikes. The comment boxes of this trailer are flooded with fans who are disappointed with the trailer and the game. When it comes to the feature, it seems not much better, or up-gradation over the PS4 and Xbox One versions; commentators are already mentioned that they don't want to welcome back to Los Santos again. They blame Rockstar for being greedy, out of touch, and prompting that the game is outdated.
It's unbelievable that this single game has persisted almost three generations of video game consoles. Until now, no such changes have happened with this game rather than the title, and it surprises some that the game lasted so long! While it is not arbitrary to re-release a widespread game for players to enjoy on several platforms, fans are actually expected to have launched some other games simultaneously within that series.
Fans are also expected that the PS5 and Xbox Series X|S versions of GTA 5 would have some drastic improvement over the older version of GTA, PS4, and Xbox One versions to make it even better and worthy but some people fans also expected out of the box which is nothing but GTA 6.
No, the question is where GTA 6, as the release date seems years away, is. Rockstar is still supporting and spending time on GTA 5 and perhaps not on the next game. Some also questioned that if the GTA 6 are going to launch within a few months, and now the GTA 5 version is also going to launch soon for free for users who own the game, then people are possibly more accepting. Grand Theft Auto 5 Expanded and Enhanced releases in March 2022 on PS5 and Xbox Series X|S. so what's your view on it? Let us know under the commend box.
Also Read: New Minecraft Mod Adds Dragons