The Fallout series is one of the most popular post-apocalyptic video game franchises in history. Bethesda, the company that owns the Fallout franchise, has not released a new game in the series since Fallout 4 in 2015. Considering the impact Bethesda and Fallout have had in the past few years of gaming, we definitely knew this was a gaming story worth sharing with all of you.
Fans of the Fallout series have been eagerly awaiting news about Fallout 5 and now, the wait is over. Todd Howard from Bethesda has confirmed that Fallout 5 is in the works and will be developed after The Elder Scrolls VI.
Speculation about what features will be included in Fallout 5 is rampant on the internet and some people are concerned that Bethesda may have rushed the development of Fallout 4 and that it will show in Fallout 5. Regardless of the concerns some fans have, anticipation for Fallout 5 remains high.
Bethesda has done a great job of keeping fans entertained over the years with a wide array of collaborations on exciting gamer merch, and we'll be anticipating some awesome Fallout branded posters and in-game visual teasers as the release date approaches.
On the fifth installment of Bethesda's post-apocalyptic role-playing game franchise, Fallout director Todd Howard cautioned that it is indeed coming, however, it might be a while before players get a taste of the fallout world.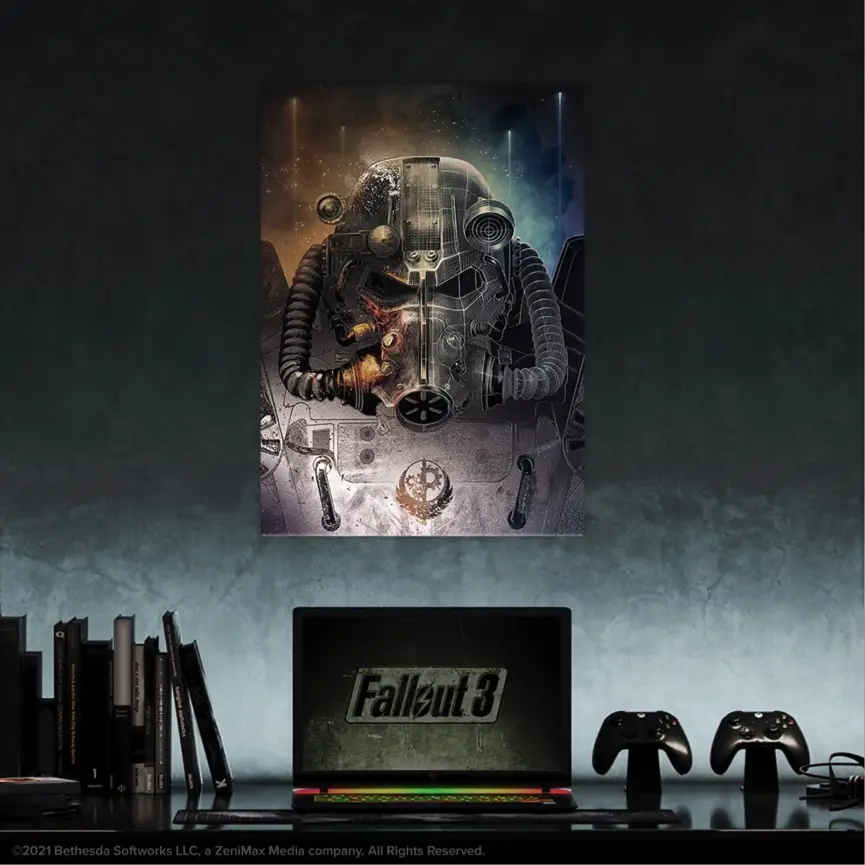 Fallout Gaming Setup Image From Displate
In an IGN interview during the Xbox-Bethesda showcase, Howard said "Yes, Elder Scrolls VI is in pre-production and, you know, we're going to be doing Fallout 5 after that, so our slate's pretty full going forward for a while. We have some other projects that we look at from time to time as well."
To date, the Fallout franchise has had many installments and spin-offs such as New Vegas by Obsidian entertainment in 2010 and Fallout 76 in 2018. But, playing these today doesn't scratch the itch many people have for Fallout 5.
As noted before the game is still far off, however, Looks like Howard shares the same sentiments as fans sad about the long wait. In his interview with IGN, he states "They do take a while, I wish they came out faster, I really do, we're trying as hard as we can, but we want them to be as best as they can be for everybody,".
So, there you have it. The latest in the Fallout 5 Saga. Bethesda is hard at work bringing the still-untitled Elder Scrolls VI to life.
The game will be next in line after The Elder Scrolls V: Skyrim. Howard also directed that absolute beauty of a game.
In the meantime, Bethesda's RPG Starfield is slated for release during the first half of 2023.