Apple lovers, this is good news for you! The long wait is finally over as the  Apple Event 2021 will occur tonight at 1 pm ET and 10 am PT. This is now official, and the invites have gone out for a California streaming. This will be one of the biggest Apple events as people expect the launch of several apple gadgets and a new iPhone.
Apple officials confirm the Apple Event 2021 in September   
We have already got so many rumors about the upcoming gadgets and regarding the new iPhone. Most people expect the so-called iPhone 13, Apple Watch 7, and AirPods 3 in this event.  No doubt Apple already splits its top launches into a series of virtual keynotes, but people are still expecting several Apple events before the end of this year (2021); the September event must be the one people are waiting for a long and cares a lot about.
Like the previous Apple event, the upcoming Apple will be one virtual broadcasting from Apple Park. The company already detained two virtual keynotes this year! The Spring Loaded event featuring the dashing Apple AirTag key finder and the powerful Apple iMac 2021, afterward the WWDC 2021 in June.
The expectation of rumored products to be launch in upcoming events  
After the September event, it is expected that Apple may return in October or November with several rumored products like MacBook Pro 16-inch 2021, iPad Mini 6, and MacBook PRO 2021.
People are expecting many devices in upcoming events of Apple, and they are too excited to know about Apple's new products. For now, people are eagerly waiting for the 14th September event of Apple. Let's know all the plans for this upcoming event of Apple below.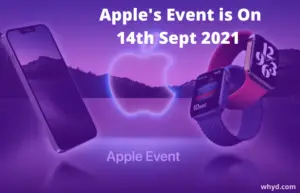 Apple September 2021 event: date, time, and how to watch
According to the official news, the Apple Event will be virtually broadcast from Apple park on 14th September at 1 pm ET/10 am PT.
Apple clearly says that people can watch the live streaming of this event at Apple .com, and it will also be broadcast on YouTube.
The day has finally arrived. There's no idea what Apple will be launching at today's "California streaming" event. But it seems likely we'll see the new iPhone, likely called the iPhone 13, and a new Apple Watch Series 7, along with rumored AirPods 3. The event will be held virtually, might show a new iPhone design and considerable improvements to the camera and other specs.
Apple Live Event Streaming 2021: Apple's iPhone 13, Apple Watch Series 7, and AirPods 3 will be the main devices at tonight's event!
Apple Event: iPhone 13
Apple's most expected and exciting launch might be the iPhone 13 in this upcoming Apple event in September 2021. No doubt, we already have so many reports and leaks about this upcoming phone's design, features, and specifications. That's why everyone must be aware of this phone and its specifications. Undoubtedly, people are expecting too much from this upcoming iPhone lets see what new feature Apple will add to its iPhone in September 2021.
We believe that Apple will definitely come with four iPhone 13 models like they did during iPhone 12. You may find a smaller notch along with a faster A15 Bionic Chip, larger batteries, and improved 5G in these 4 models of iPhone 13. The iPhone 13 Pro model might feature an always-on option and a dynamic 120 Hz refresh rate display and ultra-wide lens.
Still, people are circulating so many rumors regarding the testing of revamped Face ID hardware by Apple and the satellite communication feature on these new iPhones, which might work even on cellular networks fewer areas for emergency calls only. Till now, there has been no confirmation from Apple officials regarding these features. Hopefully, Apple will launch this new iPhone 13 with improved display and advanced features.
Apple Event: Apple Watch 7
Apple Watch 7 might be another center of attraction for this upcoming event of Apple 2021. People are expecting this watch should be the best Apple watch till now. Though there is not that much leak on this upcoming Apple watch, we can expect some likely changes.
Apple may be changed the design of the watch this time for Apple 7. According to several sources, the upcoming Apple Watch 7 frame might feature flat edges, and the display might come with new lamination technology.
According to a leaker on a Chinese site, the Apple Watch 7 will come with a new larger size with a 41mm x 45mm, which will definitely be larger than the Apple Watch 6 and Apple watch SE.
What's your thought on this upcoming Apple Watch 7? Will all these rumored features be enough to call this watch the best in the market? Let's see time will say whether the upcoming Apple watch will be best or average.
Apple Event: AirPods 3
As people are already expected, the AirPods 3 seems to debut in this upcoming event of Apple. After the huge success of the AirPods Pro and Air Pods Max, Apple can declare this upcoming AirPods 3 as the best wireless headphone in the market.
No doubt, we have heard so many rumors about the features and specifications of these upcoming AirPods. Still, it's tough that users will get the same features in these wireless headphones. There is much inclusion regarding the active noise cancellation feature of this AirPods lets what's new you will find in these earbuds.
You may get new major features like iOS 15 updates, Dolby Atoms support, and spatial audio for a cinematic experience in this AirPods 3.
Apple Events: What's Next?
Source says the iPhone 13, AirPods 3, MacBook Pros, iPad 9, and Apple mini 6 should launch by Apple before the end of 2021.  It will not be a surprise if Apple plans for a surprise product launch in late December, though you will get all updates before the event via a press release instead of a direct event from Apple. Apple might launch MacBook Air 2021, Mac Mini 2021, or maybe something else.
Rather than these products, according to rumors, Apple might launch AirPods Pro2 and Apple Glasses, Apple VR, and Apple Car in the upcoming days. Before, Tim Cook also mentioned that he would step down after completing one of the big projects, which might be revealed between 2025 to 2028. No doubt Apple will definitely introduce advanced and unique devices in their every launch, so keep your eyes on Tom's Guide, and don't forget to watch the live broadcasting of Apple Event 2021 tonight.
Also read: The new iPhone 13 won't be port-less