It's a big question now when we can see the Apple AirPods 3? No doubt nearly two years have passed since the last launch of Apple's truly wireless earbuds, the AirPods (2019), people are now eagerly waiting for an updated pair of Airpods.
According to the top new portal Bloomberg, which recently spoke with people familiar with the plans, the AirPods 3 could include motion sensors for fitness tracking and integration with Apple Fitness Plus, along with noise reduction features.
The report also claims that the third generation of Apple AirPods is on the way of development, we have also heard rumors and leaks that all the component for the AirPods manufacturing is already shipped!
On the other hand, rumors of Apple AirPods 3 booming into the market before 2020 were out, they never arrived and now everything is aiming to a 2021 release.
Recently the Apple'sevent came and went without any mention of AirPods 3, which shows a clear denying of many speculations that they would be released. Instead, we saw the new iPad mini, Apple Watch 7, and iPad OS 15.
After the launch of the original AirPods in 2016, the true wireless earbuds have conquered the headphones market and after that, every smartphone brand tried to launch their wireless earphone.
In 2010, the upgraded AirPods 2 were featured with an H1 chip, which assists the AirPod to pair quickly and also long battery life along with the popular "Hey Siri" feature.
These top-rated second-generation true wireless earbuds were convinced upon their previous models but they were easily covered by the likes of Cambridge Ausio MELOMANIA 1, Sony WF-1000XM3, and AirPods Pro in 2019.
Though people are still waiting for the official confirmation from Apple regarding the launch of its next-generation AirPods 3 this year, here is everything we know so far from several leaks and people are also expecting some amazing features from this most awaited AirPods. Let's know more about these speculations and leaks.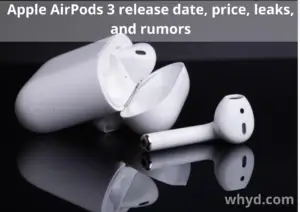 Apple AirPods 3 release date
No doubt we have a few thoughts about the specs we might see with the new earbuds, but the official AirPods release date still evades us.  We assumed we might see them at the launch of the Apple event with iPhone 13 series on 14th September 2021, but we stay disappointed.
Still, we are hopeful that Apple is going to launch it before the end of 2021. In May, Bloomberg said that the AirPods 3 were in a development state and may be announced before the end of 2021.
According to Apple analyst Ming-Chi Kuo the firm will start producing new AirPods in the third calendar of 2021. Several leaks and rumors are also claiming the same. Now we are getting many leaked photos of AirPods 3 which clearly gives us ideas regarding the design of this upcoming AirPods of Apple.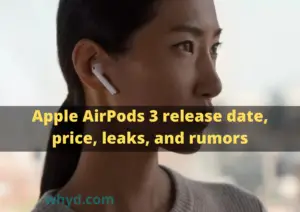 Apple AirPods 3 price
The Apple AirPods 3 are probable to be cheaper than the AirPods Pro, which cost around $249, perhaps the next generation AirPods 3cost somewhere at the current price of AirPods (2019) with the charging case(wireless).
So the price may be somewhere $159. Saying that it's conceivable that they could be costlier, particularly if Apple will add some premium features like Spatial Audio and noise cancellation.
Apple AirPods 3 design
When it comes to the design of AirPods 3, It's very interesting! Several leaked pictures of AirPods 3 clearly show that the design of these AirPods will be somewhere similar to the previous version but you may see shorter ear stems this time and new AirPods will have silicone eartips because of the noise cancellation feature.
The charging case of these AirPods is almost the same as the previous model. But this time you may get these AirPods smaller inside along with shorter ear stems for a perfect fit. According to the recent Bloomberg report, the AirPods 3 will look the same as AirPods Pro which is a little bit surprised but let's see!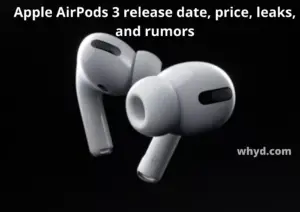 Features of Apple AirPods 3
No doubt many of the AirPods 3 leaks and rumors have solely focussed on the design of the new earbuds but there are many speculations on its features. Let's know more about the features according to rumors and leaks.
Fitness Focus
Leaks say Apple is trying to feature the ambient light sensors in its next-generation AirPods which definitely help to track fitness data. This sensor can help users during yoga, exercises, and stretches. The latest feature we have heard regarding the new AirPods is to track the breathing rate.  Users can also track respiratory rate during exercise and overall this sensor can monitor several fitness records.
Safety features
When it comes to safety feature rumors says now the new AirPods of Apple automatically pause or lower the volume of the music if they detect any kind of hazards in the surrounding. The GPS tracking and advanced noise feature can help users to stay safe on busy roads. The accelerometer on AirPods 3 also helps cyclists to stay safe by pausing music when the speed limit will cross above a certain threshold.
Active noise cancellation
As we already suggested according to Ming-Chi Kuo AirPods 3 will look most like the AirPods Pro, with silicone ear tips and a sleek look which clearly says that these earbuds are going to be active noise cancellation. Several leaks also claim that AirPods 3 will come with an active noise cancellation feature which is a good thing for users.
Spatial Audio
Spatial Audio may be another feature Apple can bring with the upcoming AirPods 3. This is a unique feature that uses inbuilt accelerometers and gyroscopes inside the Apple earbuds which can track the position of the user's head, as well as the position of the iPhone and iPad. This feature will definitely provide you adequate sound from the device.
Gesture controls
The report says you may see the gesture control feature in upcoming AirPods. This is a special feature that works like touch sensitivity control like AirPods Pro. With the help of this feature, you can easily perform different actions on your iPad or iPhone which is amazing.    
Better battery life
Battery life is crucial for every device nowadays! According to the report of Bloomberg, Apple is looking to enhance the battery life of its AirPods, which nowadays comes in at a 24 hours range. We surely hope this time the new generation earbuds of Apple must come with more battery life than its previous model.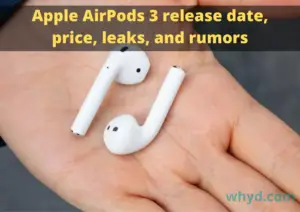 Apple AirPods 3: what people are expecting?
People are expecting better sound quality in AirPods 3 than AirPods 2. Apple may focus more this time on design and sound quality along with active noise cancellation features. Now Apple Music also offers hi-res audio at no extra charges to subscribers, People would like to see an amazing update on hardware so that the earbuds are capable of providing lossless audio.
What are your thoughts on this highly hyped AirPods 3? Let us know your points of view in the comment section.
Also Read: New iPad Air 5 release date, price, news, and leaks